Six ColourStandard Rotogravure Printing Machine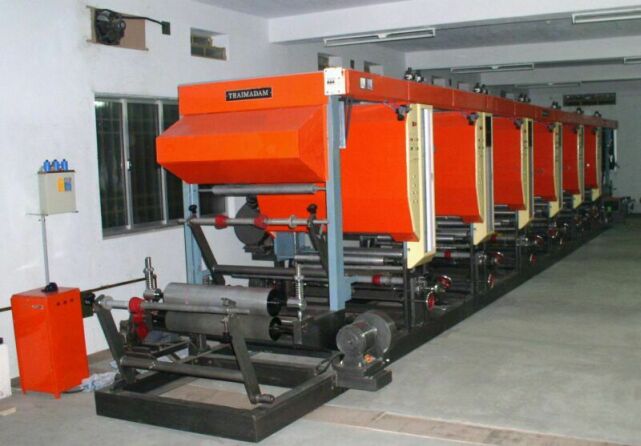 | | |
| --- | --- |
| Cartridge Loading of Cylinder and Ink - Enable quick loading of new jobs and reduce set-up-time | Trolley Loading of Feed rolls - Can load heavy roll very easily to the machine |
| Unique Viewing Window - Observation of the printing process and the monitoring made easy | Feed trolley can be inserted in between any printing units - Minimizes the run length of substrates and wastage |
| Distributed Control Panel - Various operations of control of the machine can be done from any part of the machine by the use of clone push button switches | Motorized Registration - Assure the accurate and easy registration of different colours with only the effort of feather touch, minimizing the wastage. |
| Split ability - The machine is universally split able to function as two different machines practically doubling the production | Universal Reversibility - Both side printing is possible by reversing required number of printing units, even if the machine is acting as two separate machine. |
| Lamination Capability - The machine can be used for lamination of two layer of flexible substrates | Most User Friendly - The overall design is done to operate in most user friendly manner. |
| | | |
| --- | --- | --- |
| Web Feeding System | Shaft unwinding system with felt-clutch for break, on wheels and detachable from main machine. Can be loaded out side the machine. | 3 Units |
| Web winding System | Surface winding driven by torque motor fixed to two ends of the machine with twin winding shafts | 2 Units |
| Cylinder-Cartridge | On wheels fitted with inking system, detachable from main machine. Cylinder and ink can be loaded out side the machine. | 6 Units |
| Drying System | By heaters and blowers mounted on each printing unit with ducts to distribute on both side | 6 systems |
| Required floor length | 12 Meters for convenient operation | |
| Machine Height | 2.5 Meters | |
| Machine Width | Depends on the various web width of the machine | |
Electrical specifications of the available sizes
All drive motors are three-phase AC motors with Variable Frequency Dive
| | | | | | |
| --- | --- | --- | --- | --- | --- |
| Web Width | Drive motors | Winder Motor | Heating Load | Synchronous Motors 25 W | Lights |
| 45 CM | 2 HP two Nos. | 0.5 HP Torque Motor two Nos. | 1.5 KW 6 Nos. | 23 Nos. | 400 W |
| 60 CM | 3 HP two Nos. | 0.5 HP Torque Motor two Nos. | 2 KW 8 Nos. | 23 Nos. | 400 W |
| 75 CM | 3 HP two Nos. | 0.5 HP Torque Motor two Nos. | 2 KW 6 Nos. | 23 Nos. | 400 W |
| 90 CM | 5 HP two Nos. | 1 HP Torque Motor two Nos. | 3 KW 6 Nos. | 23 Nos. | 400 W |
| 105 CM | 5 HP two Nos. | 1 HP Torque Motor two Nos. | 4 KW 6 Nos. | 23 Nos. | 800 W |
1. Web Tension Controller : Micro processor controlled Web Tension Controller is typical attachment for accurate maintenance of print registration. Irrespective of the the feed roll size the tension of the web will be maintained uniformly through out printing session using electronic tension sensors. Micro computer based electronic system assure the accuracy of the operation.
2. Web Aligner : The attachment can be mounted at the feed section and/or at the winding section. If attached at the feed section, it will assure the alignment of the feed rolls even if the feed roll is slipped or is not properly wound for use in printing machines. One edge of the feed film is sensed by air sensors (pneumatically) or by electronic light sensors and the feed roll is aligned and adjusted to the main web line. If it is fitted to the winding section, it will assure the perfect wound rolls in the out put, even if the feed rolls are defective in winding, or if some operational mistake occurred so that it may vitiates the proper winding. It will help the subsequent use of the printed rolls in automatic packing machines.
3. Additional Cylinder Cadridges : It will help to increase the production by saving job changing time. Since the ink and cylinder are provided in the Cadridge, pre-loaded Cadridge will reduce the change over time considerably.
4. Additional Feed Trolley : It will help to increase the production by saving feed roll changing time. The feed rolls can be pre-loaded on the Trolley and quick change over of Trolley will reduce the changing time considerably.